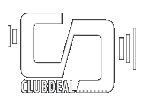 Adisa CANCAR, Manager of Co-productions

Adisa Cancar's first job in the industry was as Assistant to the Manager in the Sarajevo Film Festival. She then was promoted and served for four years as Program Manager of Children's and TeenArena program.

In 2011 she started her collaboration with Clubdeal as coordinator with particular focus on the joint projects with Refresh Production. Concurrently she graduated with a Master's degree in Business and Management from Oxford Brookes University.

Helped by fluency in English, French, Turkish, Bosnian and German she is currently working directly with Pierre Spengler in coordinating all co productions in which Clubdeal is involved.